Your house have the  number 3 in accordance with below map.
The key to the house is hidden in an encrypted box at the entrance to the house. The code consists of 4 digits. The first digit is the house number. Three next are: 727.
I apologize in advance for playing escape room.
When leaving, please put down the key in an analogous way so as not to spoil the fun next guests 😉 When closing the box, the code must set with above code. After closing please for randomly change of code.
Due to the ordinance issued related to the coronavirus epidemic, the sauna and the playground remain excluded from use.
The houses have a hand sanitizer as well as appropriate instructions. The house before your arrival was disinfected in accordance with GIS recommendations.
If you have any of the coronavirus symptoms (fever, cough, shortness of breath, muscle aches and general fatigue) I am asking you to stay at home. I will certainly be able to welcome you at a different time. The down payment will be credited towards the next stay.
The wood for the fireplace is located in the woodsheds near the houses or behind the sauna under the roofs.
Valuable tips:
1. To close the house, please raise the handle and lower then you can turn the key.
2. The shortest way to the beach is through the neighboring campsite. The gate is open (no dog). There will be another wicket. Follow the path along the lake until you reach the road (bike path) leading to the beach (about 20 min walk).
3. If you want to taste delicious food, we recommend the Mirabelka restaurant in Kopalino (booking the day before for the Lighthouse-Sfera password, phone 503-302-800) and the Ewa Zaprasza restaurant in Sasino. We advise you to go through Choczewo. Uncle Google leads a shorter path through the forest -> we do not recommend, especially with a little Fiat 126p 😉
Leave your car in the places marked on the map as a car park.Please do not drive onto the lawn.
Dear guests, for the sake of the beautiful surroundings and our planet, I have a fervent request for waste segregation.
We are properly prepared for this 🙂 Trash cans are in front of the houses against the wall of trees. Please do not light the grill on wooden terrace because it is too big risk;) We have already replaced a few boards and the cause was not a bark beetle printer 😉 Please place the grill on the lawn at a safe distance from house and other buildings.
In the absence, in strong winds and at night, please fold the umbrella.
And last thing as a reward -> Wi-Fi password.
304QM9GH6EH
Use wisely -> you're on vacation!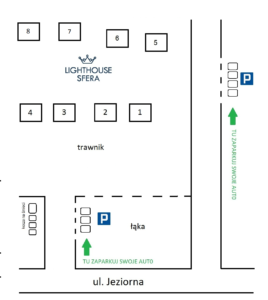 Best Regadrs and have a nice day!
Lighthouse Sfera